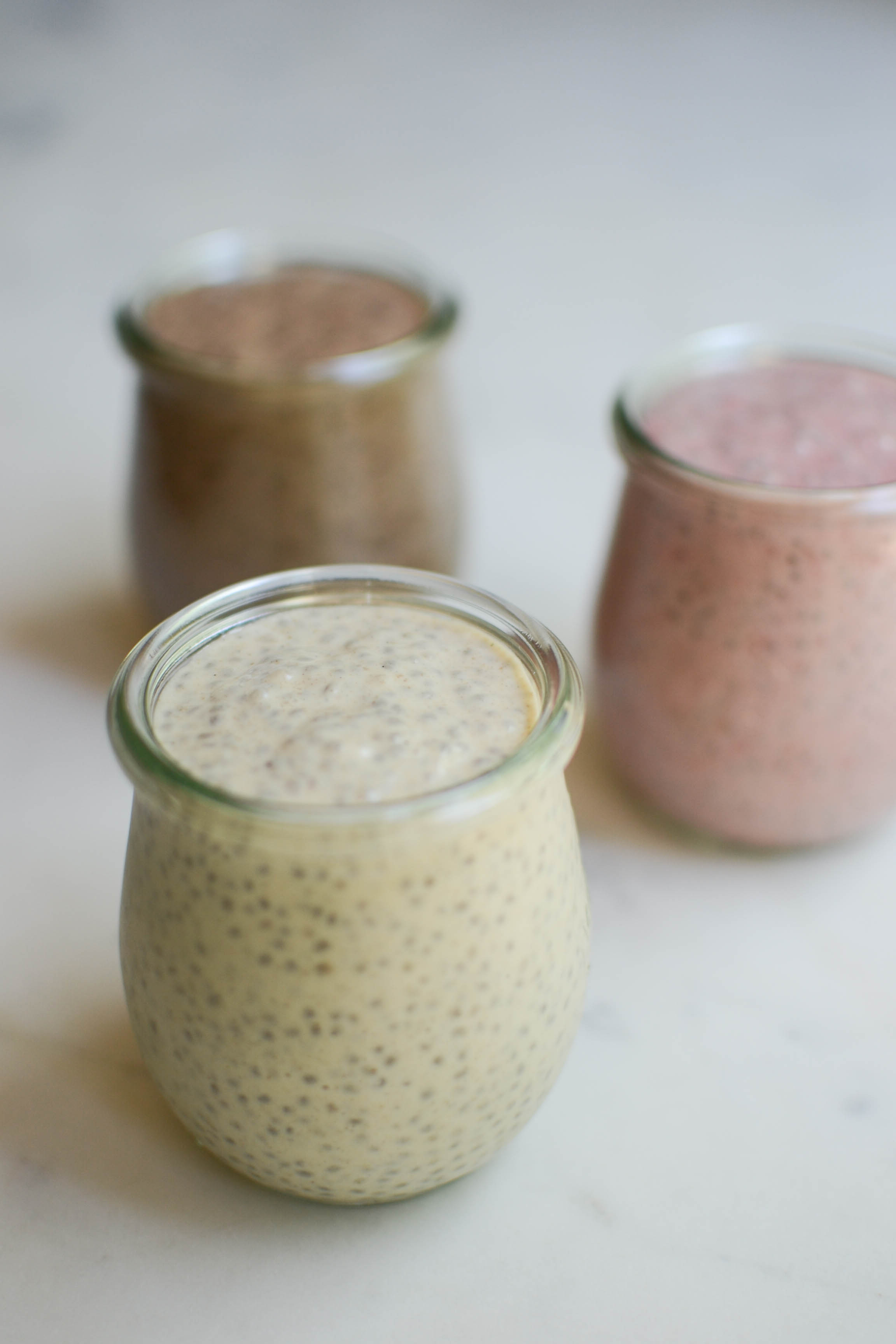 Have you ever tried chia pudding? I never used to like it until I made this recipe from Amy Chaplin's cookbook. Puddings I've tried in the past have had a weird texture and just tasted blah. The homemade nut milk, dates, and vanilla make all the difference in this recipe and it only takes minutes to make in the blender! My husband and I usually eat it for breakfast but it would also make a nice dessert. Chia seeds are a concentrated source of omega-3 fatty acids as well as dietary fiber. They are nutrient rich and contain a significant amount of vitamins and minerals compared to their size. The word "chia" is actually the Mayan word for "strength" which is fitting since chia seeds are a complete protein (meaning they contains all the essential amino-acids we need as humans). If you're unfamiliar with chia seeds, they become gelatinous when soaked. In herbalism they are known as a demulcent which is cooling and soothing for those with compromised digestion.
In celebration of the beginning of strawberry season here in New Jersey I decided to make a strawberry version of the chia pudding, as well as vanilla and chocolate. Strawberries are one of the best cancer fighting foods due to their antioxidant content. They are low glycemic compared to other fruit and have been linked to improved regulation of blood sugar as well as lowering risk for cardiovascular disease. On a side note, strawberries are one of the most contaminated types of produce including chemicals that have been linked to cancer and reproductive damage, or that are banned in Europe. If you want to avoid pesticides it's a good idea to buy organic strawberries, especially for children who are more vulnerable to chemicals than adults. If you missed my post about the "dirtiest" and "cleanest" fruits and vegetables, click here.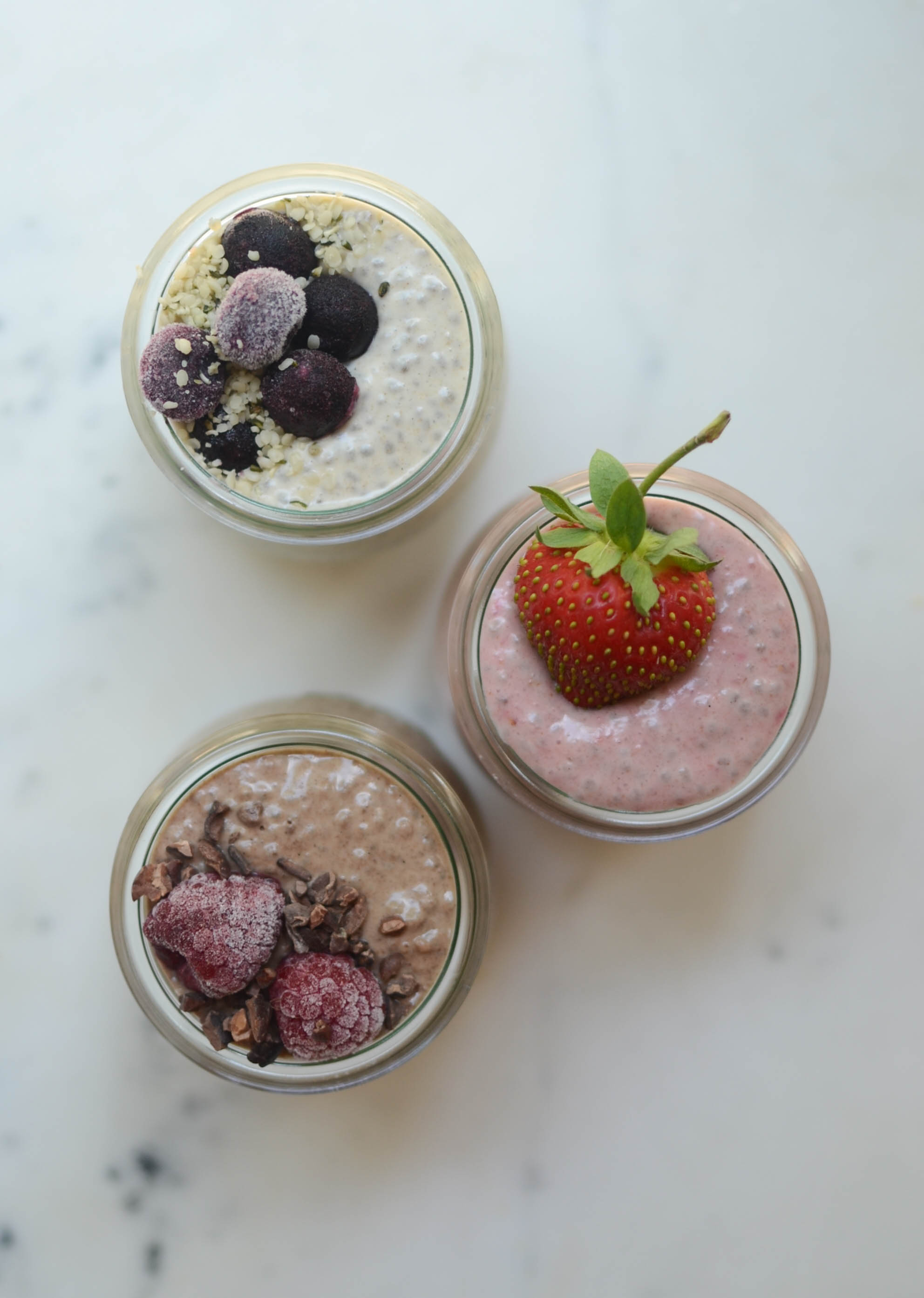 vanilla chia pudding
recipe from amy chaplin's at home in the whole food kitchen
serves 6-8
ingredients
1/2 cup chia seeds
1 vanilla bean
1 cup raw cashews, soaked at least 2 hours, preferably overnight in filtered water
4 cups filtered water
7 medjool dates, pitted
pinch of salt
1/4 teaspoon cinnamon
2 tablespoons coconut butter or extra virgin coconut oil
4 teaspoons vanilla extract (make sure no sugar added)
directions
place chia seeds in a large bowl. split vanilla bean in half lengthwise with knife and scrape out seeds with the tip of the knife. add the seeds to upright blender. set aside vanilla bean pod.
drain and rinse cashews, and add to blender along with 4 cups of water, pitted dates, salt, cinnamon, coconut butter/oil, and vanilla extract. blend on the highest speed until completely smooth, about 1-2 minutes. pour into bowl with chia seeds and whisk thoroughly. let mixture sit for 10 minutes, whisking a couple of times to prevent chia seeds from clumping. add vanilla pod to bowl with chia seeds. place in the refrigerator for 2 hours or until completely chilled. remove vanilla pod before serving. serve chilled topped with berries, seeds, cacao nibs or anything else you like! store any leftovers in covered jar in the refrigerator for up to five days.
chocolate chia pudding
4 teaspoons (or more) raw cacao powder
remove amount (in cups) you would like to flavor with chocolate and place in separate bowl. add 4 teaspoons of raw cacao powder for each cup and stir well. serve chilled.
strawberry chia pudding
4 ounces (or more) organic fresh strawberries (about 1/2 cup pureed)
remove amount (in cups) you would like to flavor with strawberry and place in separate bowl. puree 4 ounces of strawberries in blender until smooth and stir into one cup of vanilla chia pudding until completely combined. serve chilled.