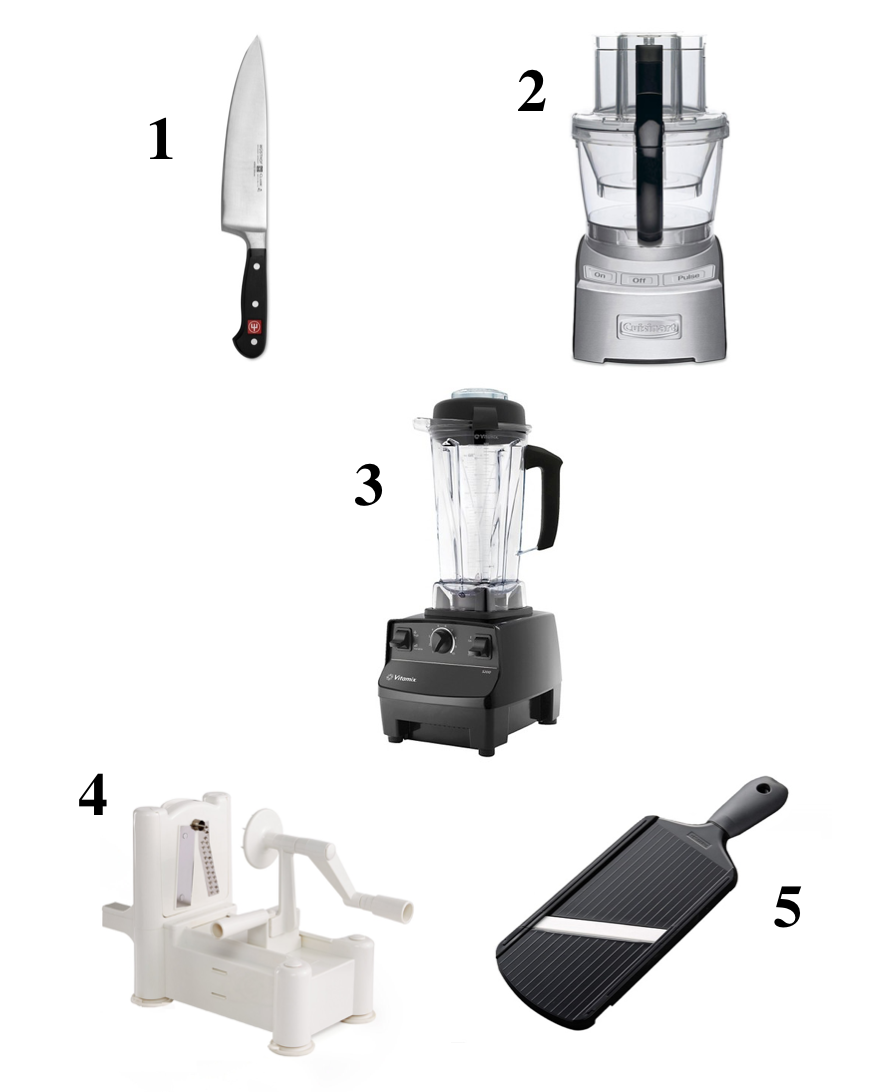 Modern kitchen equipment has made eating healthfully even more delicious, easy & fun. I wanted to share my top 5 kitchen essentials with you all!
1. a good knife – Having a good sharp chef's knife is key to quick and easy chopping, dicing, mincing, etc. Remember to take good care of it! Don't throw it in the sink or put it through the dishwasher. Hand wash and dry it and keep it on a knife rack, not thrown in a random drawer.
2. food processor – I have a 12-cup Cuisinart. It's definitely a pretty close tie which gets more use, this or my blender. My grandmother bought it for me more than 5 years ago and it is still going strong. I use it for everything from breakfast bars to banana ice cream to brownies to hummus to nut 'flours'. The shredding disk is magical for making homemade kimchi or coleslaw. I seriously don't know what I would do without it!
3. blender – For years I used this Oster blender which works pretty darn well on high. I have since upgraded to a Vitamix and love it. I use it for smoothies, hummus, soup, pesto, sauces, and coconut yogurt. These machines are built to last and are worth every penny. Vitamix stands behind their product and has great customer service.
4. spiralizer – Ok, so definitely a little awkward to store, but makes food so incredibly fun! You can make practically anything into a noodle – zucchini, sweet potato, beets, parsnips, cucumbers, you name it. You can find a recipe in the archives for zucchini noodles.
5. ceramic slicer – This is a life changer. It is similar to a mandolin (which I've never had) but there's only one thickness. It is super sharp (be careful not to take the outer layer of skin off your finger) and easy to clean. Some of my favorite recipes are made with this like this brussel sprouts slaw and zucchini crudo.