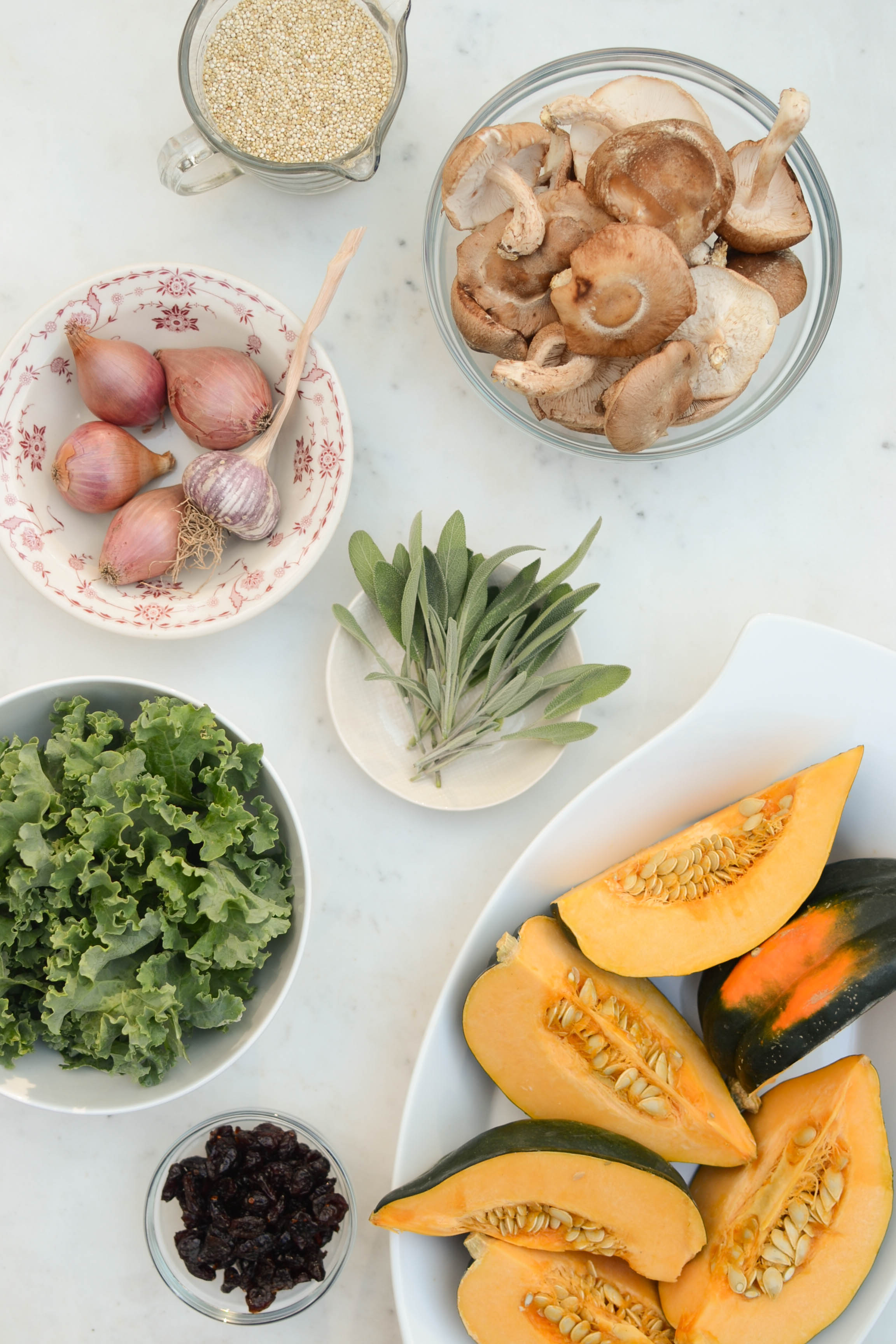 Today I am sharing yet another squash recipe, because well, they are in season! I absolutely love winter squash and I am thrilled that my husband who used to hate all types will now eat (and enjoy) anything I make with any type of squash! I wrote about the health benefits of winter squash here. Quinoa is great too and I talk about it here.
Being that October is breast cancer awareness month; I want to take some time to talk specifically about the cancer fighting properties of mushrooms, onions and cruciferous vegetables. First off, if you have not seen this TEDTalks, go watch it now. Also check out "Eat to Beat". Both mushrooms and onions contain angiogenesis inhibitors, which in short, inhibit the growth of abnormal blood vessels that feed tumors; and tumors cannot grow if they do not have a blood supply. Eating as little as 10 grams of mushrooms per day (1 small mushroom) reduces the risk of breast cancer by 64%! Combine that with dark leafy greens and green tea and we're talking 89% reduction! This is how we will fight cancer, by fueling our bodies with the nutrients which simply do not allow cancer to grow. Eating cruciferous vegetables daily can actually suppress the gene responsible for the genetic disposition to breast cancer. Chinese women who already had breast cancer and began eating 1 cup of dark leafy greens daily, had a 35% reduction in reoccurrence after only 30 days! So go make this recipe, it's full of cancer fighting goodness.
Next week I will be posting more about breast cancer so make sure you check back. I am so passionate about educating women on what they can do to reduce their risk, and for women who have already had breast cancer, ways to reduce their risk for recurrence.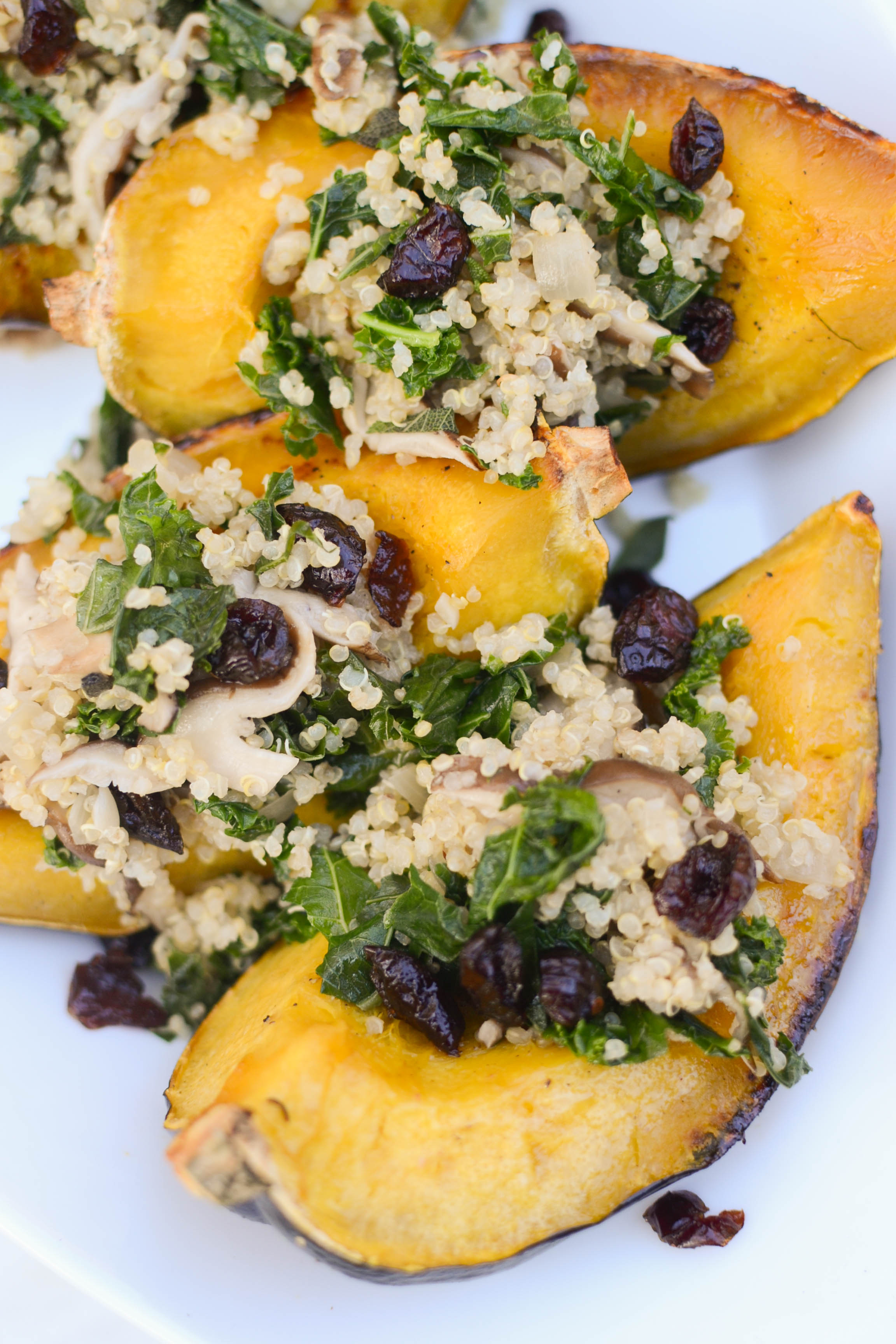 stuffed acorn squash with quinoa, kale & shiitake mushrooms
recipe adapted from love and lemons
serves 4
ingredients
2 acorn squash, cut in half and seeded
1 cup *sprouted quinoa
2 cups water or vegetable stock
extra virgin first cold pressed olive oil
2 shallots, chopped
2 garlic cloves, minced
4 garlic cloves, whole, peeled (optional for roasting squash)
3 cups shiitake mushrooms, dry part of stems removed and thinly sliced
4 cups curly kale, loosely packed
bunch of fresh sage
dried cranberries, optional (apple juice sweetened)
salt & pepper
directions
preheat oven to 425⁰F
slice the acorn squash in half and scoop out seeds (don't throw seeds away; they are great to toast and snack on) drizzle squash with olive oil and season with salt and pepper. place face down on baking sheet and tuck a sprig of sage and one peeled garlic clove in each cavity. bake for 30-40 minutes or until tender when poked with fork. remove from oven and set aside.
while the squash is baking, start cooking the quinoa. bring 2 cups of water (or stock) and quinoa to boil in a medium saucepan. season with salt and simmer covered until water is completely absorbed, about 20 minutes. remove from heat and fluff with a fork, leaving lid off to cool.
in large skillet, heat a couple tablespoons of olive oil over medium heat. add shallots and cook until soft. add garlic, shiitakes, and sage. season with salt and pepper. cook until mushroom are soft, stirring occasionally. add kale and continue to cook until kale is wilted.
toss in quinoa and dried cranberries. spoon filling over squash and serve warm.
*soaking quinoa overnight in filtered water sparks the sprouting process which neutralizes natural phytic acid (which can interfere with absorption of nutrients). be sure to discard the soaking water and rinse quinoa to remove phytic acid residue. use fresh filtered water to cook.