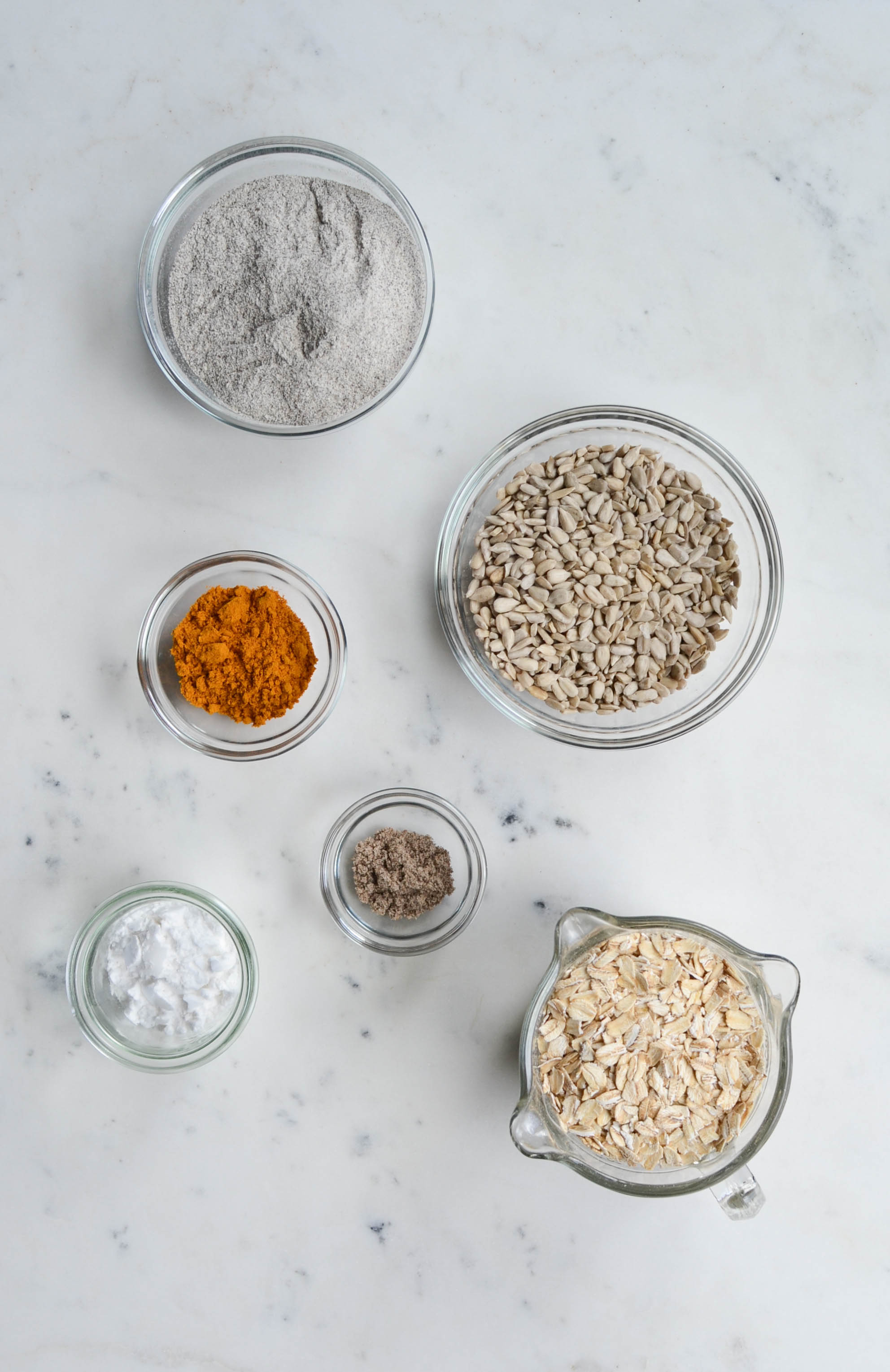 I recently realized I haven't shared any baking recipes with you here on 'hello wholefoods' so today I will change that! My family pretty much always has a steady stock of either a version of these banana muffins or breakfast bars (which I will share another time). These are easy to make and happen to be gluten free, dairy free, egg free, can easily be made nut free for those with allergies, and are kid approved by my 17 month old and by my 2 and 5 year old nieces! I mean, who doesn't want muffins for breakfast?
We love turmeric over here whether its in our home-brewed kombucha, sprinkled on roasted cauliflower, mixed into dal or in these banana muffins! Turmeric is an ancient rhizome (root) with wonderful anti-inflammatory properties. It is also known to decrease cancer risk, support detoxification, improve cognitive function, balance blood sugar, and promote healthy kidney function. Studies show you don't need much to reap the health benefits either, only 1 teaspoon or less! If turmeric is a new flavor to you, use a little less than what the recipe calls for to start off with.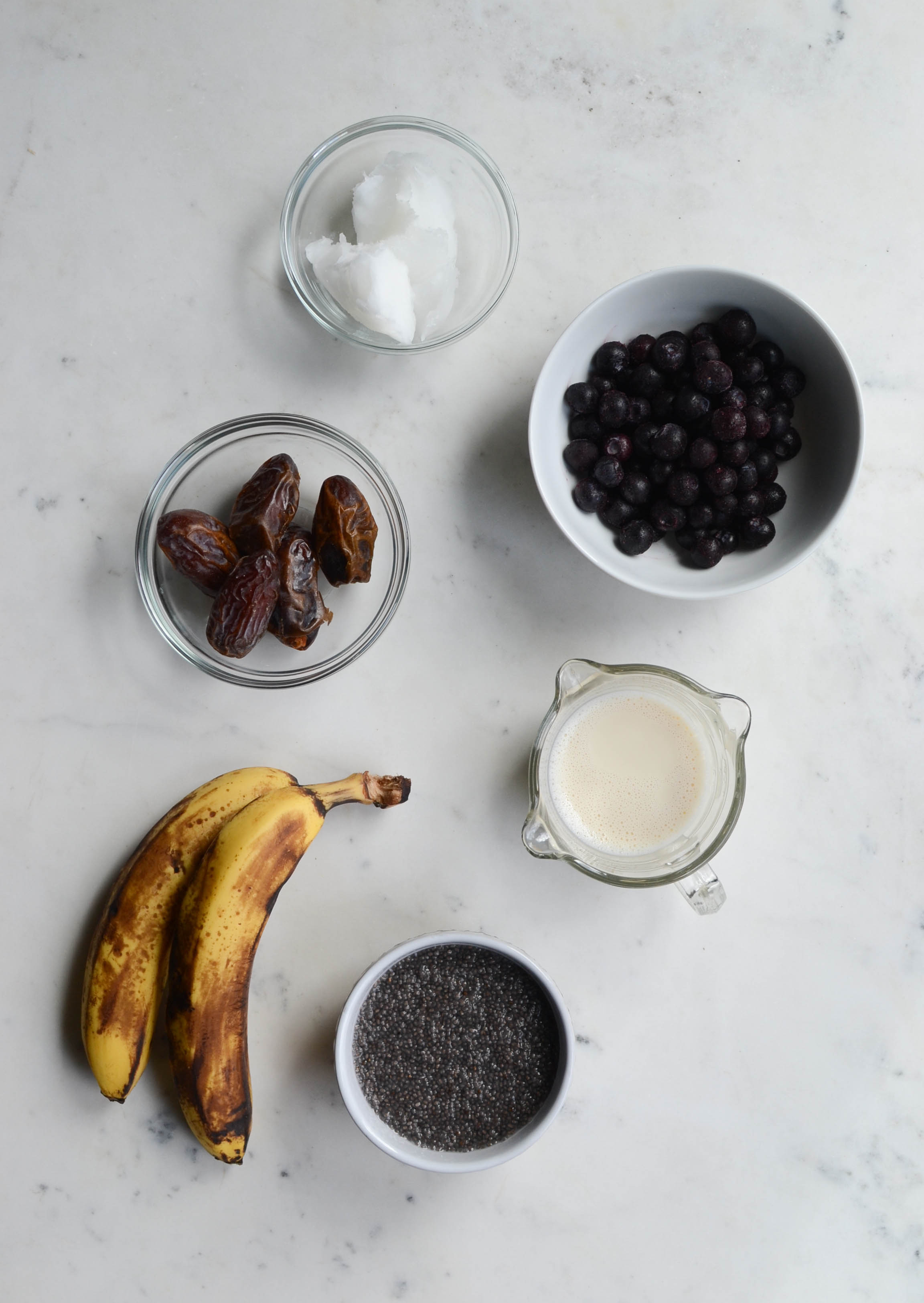 anti-inflammatory banana muffins
adapted from green kitchen stories
makes 12 large muffins
dry ingredients
1 cup walnuts (or 3/4 cup sunflower seeds to make nut-free)
1 cup gluten free rolled oats
2/3 cup buckwheat flour
2 tbsp arrowroot (or potato starch)
1 1/2 tsp baking powder
1/2 tsp baking soda
1 tbsp ground turmeric (use a little less if you're not used to the flavor)
1 tsp ground cardamom
1/4 tsp sea salt
a pinch black pepper
wet ingredients
1/2 cup unsweetened plant milk of choice (hemp or coconut milk to make nut free)
1/3 cup coconut oil
2 ripe bananas
5 medjool dates, pitted
3 chia eggs (3 tbsp chia seeds mixed with 9 tbsp filtered water)
a large handful organic blueberries, frozen or fresh (my husband likes vegan chocolate chips in his)
directions
preheat the oven to 400°F. line a muffin pan with paper liners or grease the pan with a little coconut oil. combine your chia eggs in small bowl and set aside to gel up.
add walnuts (or sunflower seeds) and rolled oats to a food processor or blender and mix quickly into a flour-like meal. add the rest of the dry ingredients and pulse a few times to mix. pour dry ingredients into medium bowl and set aside.
add plant milk, coconut oil, bananas, dates and chia eggs to the food processor or blender and mix until smooth. add the dry ingredients back to food processor and mix until combined with wet ingredients.
divide the batter into the muffin tins, drop a bunch of blueberries on top of each muffin and gently push them down a bit. bake for about 18-20 minutes. best enjoyed still warm from the oven.