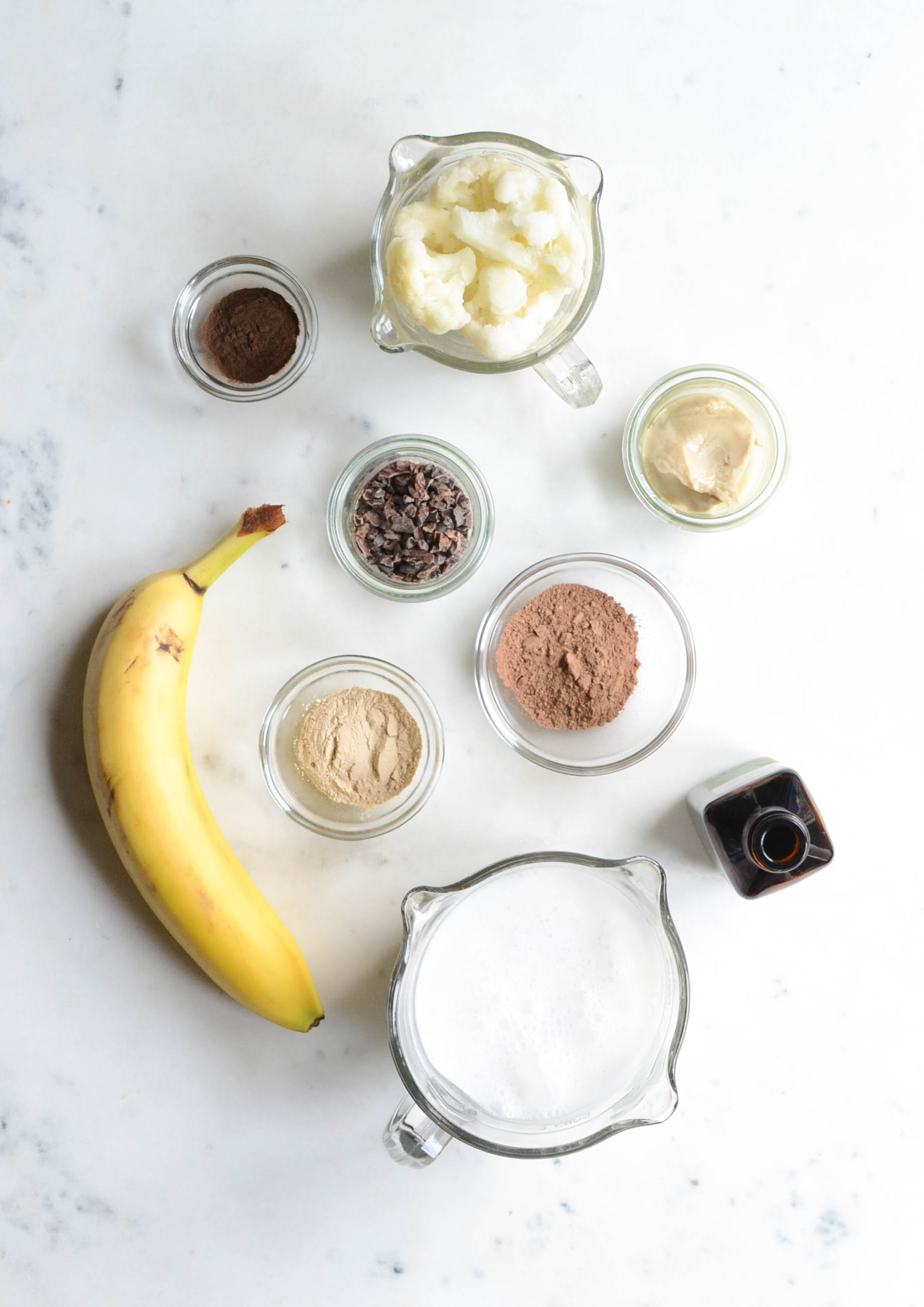 This is my go-to smoothie for when I'm running out of the house and need something substantial. It tastes amazing and you would never know there's cauliflower and mushrooms in it! My two year old is also a fan. So hashtag winning! The cauliflower leaves the smoothie nice and creamy and the chocolate masks the cauliflower taste, I promise!
I always use unsweetened plant milk and nut butters and add sweetness from whole foods like berries, dates and bananas that way I'm also getting fiber and other vitamins and minerals instead of a shock to my pancreas/insulin spike followed by a sugar crash which is what processed sweeteners do. If it's not sweet enough for your liking, you can always add an extra half of a banana.
Cauliflower falls into the cruciferous vegetable family which is well known for its cancer fighting properties. Bananas are a good source of B6 and also contain fiber, vitamin C, manganese and other trace minerals. Cacao is packed with antioxidants, magnesium and iron. I like to use raw cacao powder because the beans are milled at low temperatures to protect the nutrients and flavor. Navitas Naturals and Divine Organics are my favorite brands, which I buy from Thrive Market. Maca, a root grown at high altitudes in the Andes, has been around for awhile but recently made a comeback for its adaptogenic properties. In herbalism, an adaptogen helps the body adapt to stress and to exert a normalizing effect upon bodily processes. Maca thrives where few plants can even survive which makes it one of the most resilient plants in the world. It is also known to be an aphrodisiac so consider yourself warned of a "maca baby". If you've never had it before I would describe it as a mildly nutty and sweet flavor. You can find it at your local health food store or online. The cashew butter adds healthy fats, protein and extra creaminess as well as helping slow down digestion making you feel full longer. Lastly, and totally optional, you can add mushroom powder. I know you're probably thinking I am totally crazy, I mean I already told you to put cauliflower in a smoothie, but trust me on this one! Four Sigmatic adds rosehips and peppermint to compliment the mushrooms and it is actually amazing! This post is not sponsored, I simply love this product! I know most people don't like the texture of mushrooms so this is a perfect way to reap the health benefits of mushrooms! Mushrooms are great at fighting cancer in three ways! One, they are anti-angiogenic, which means they do not allow blood vessels to grow to feed cancer cells. Two, they have something called aromatase inhibitors which put simply, reduces excess estrogen production, which in turn reduces risk for breast cancer! Three, they contain antigen binding lectins (ABL) which bind to the surface of abnormal cells which activates the immune system to remove and destroy them! Seriously you WANT to eat mushrooms if you want to reduce your risk for cancer! The best price you can get right now is on Amazon.
I would love to hear if you made this smoothie and what you think of it so make sure to comment here or on Instagram!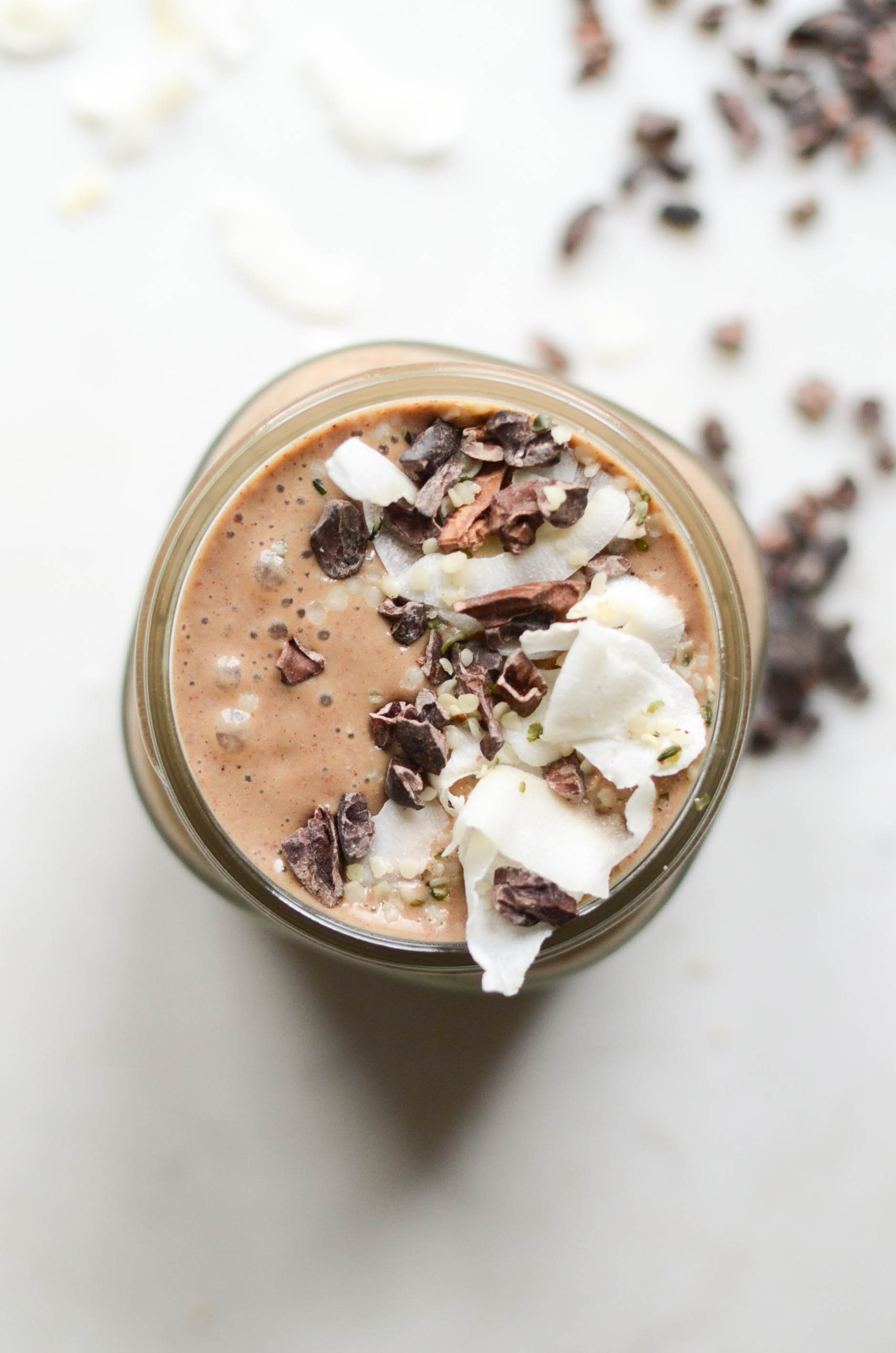 chocolate cauliflower smoothie
serves 1-2
ingredients
1 1/2 cups unsweetened plant milk of choice
1 frozen ripe banana (peel before freezing)
1 cup frozen cauliflower
1 tablespoon maca powder
1 1/2 tablespoon raw cacao powder
2 tablespoons raw cacao nibs
2 tablespoons cashew butter
1 teaspoon pure vanilla extract (no sugar added)
1 packet (1 1/2 teaspoons) four sigmatic chaga mushroom elixir (optional)
directions
blend all ingredients (except nibs) in high powered blender. add the cacao nibs at the end and blend for a few seconds so that they stay crunchy! enjoy immediately with a spoon! (this is a thick smoothie, if you have a vitamix use the tamper. if you have another blender you may need to stir it a few times or add extra plant milk.)